Please Follow and Share My Blog
In times of uncertainty, Christians have a hope that overcomes the darkness. The Bible provides a great number of scriptures that talk about our hope in Christ and who we are in Christ.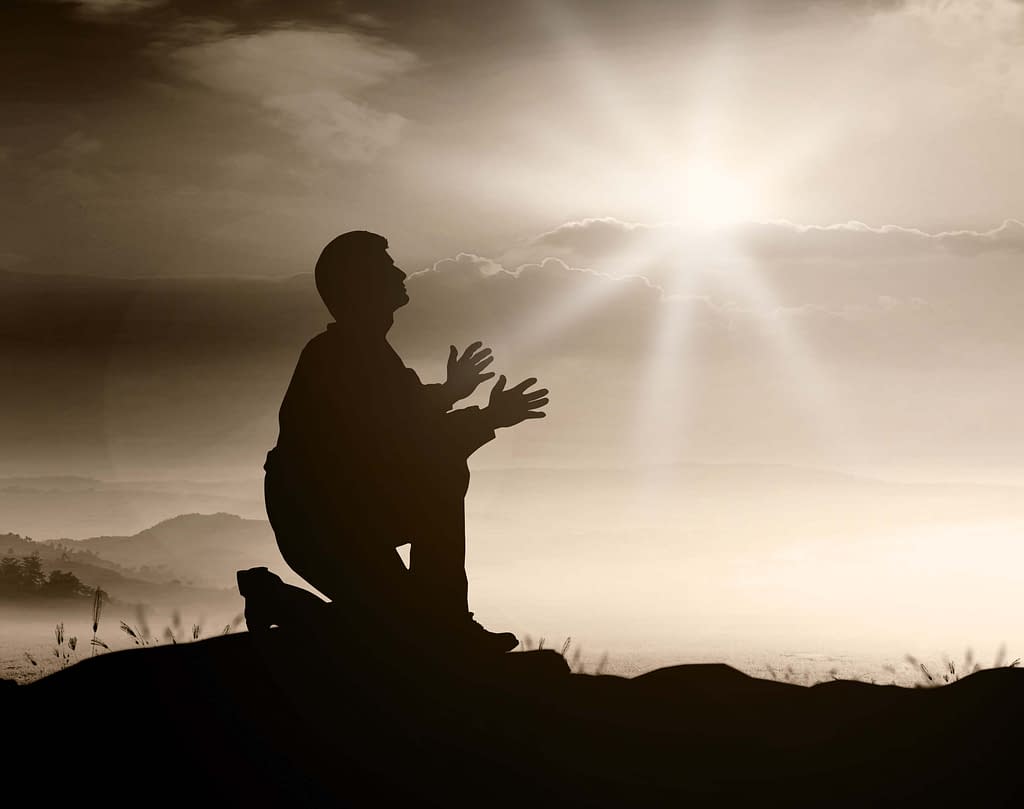 The following table uses the ESV version of the Bible. I hope these scriptures help remind you of our great hope. Feel free to share and / or print for reference. The table can be sorted by verses and is searchable to help you find particular scriptures. If you have any others let me know and I will add to the table.
Romans 8:15 – For you did not receive the spirit of slavery to fall back into fear, but you have received the Spirit of adoption as sons, by whom we cry, "Abba! Father!"
Adapted from Victory over Darkness, by Dr. Neil Anderson
Who I am In Christ
| Reference | Who I am | ESV Version |
| --- | --- | --- |
| John 1:12 | I am God's child | But to all who did receive him, who believed in his name he gave the right to become children of God |
| John 15:15 | I am a friend of God | No longer do I call you servants, for the servant does not know what his master is doing; but I have called you friends, for all that I have heard from my Father I have made known to you |
| Matthew 5:13 | I am the salt of the earth | You are the salt of the earth, but if salt has lost its taste, how shall its saltiness be restored? It is no longer good for anything except to be thrown out and trampled under people's feet. |
| Matthew 5:14 | I am a light to the world | You are the light of the world. A city set on a hill cannot be hidden. |
| 2 Corinthians 5:17 | I am a new creature | Therefore, if anyone is in Christ, he is a new creation. The old has passed away; behold, the new has come. |
| Romans 1:7 | I am a saint | To all those in Rome who are loved by God and called to be saints:  Grace to you and peace from God our Father and the Lord Jesus Christ. |
| 1 Corinthians 1:2 | I am a saint | To the church of God that is in Corinth, to those sanctified in Christ Jesus, called to be saints together with all those who in every place call upon the name of our Lord Jesus Christ, both their Lord and ours: |
| Ephesians 1:1 | I am a saint | Paul, an apostle of Christ Jesus by the will of God, To the saints who are in Ephesus, and care faithful in Christ Jesus: |
| Philippians 1:1 | I am a saint | Paul and Timothy, servants of Christ Jesus, to all the saints in Christ Jesus who are at Philippi, with the overseers and deacons: |
| Romans 6:2 | I am dead to sin | By no means! How can we who died to sin still live in it? |
| Romans 6:11 | I am dead to sin | So, you also must consider yourselves dead to sin and alive to God in Christ Jesus. |
| 1 Peter 2:24 | I am dead to sin | He himself bore our sins in his body on the tree, that we might die to sin and live to righteousness. |
| Romans 8:37 | I am more than a conqueror | No, in all these things we are more than conquerors through him who loved us. |
| Romans 15:16 | I am chosen and appointed by Christ to bear fruit | to be a minister of Christ Jesus to the Gentiles in the priestly service of the gospel of God, so that the offering of the Gentiles may be acceptable, sanctified by the Holy Spirit. |
| Colossians 2:9-10 | I am complete in Christ | 9 For in him the whole fullness of deity dwells bodily, 10 and you have been filled in him, who is the head of all rule and authority. |
| Romans 5:1 | I am justified | Therefore, since we have been justified by faith, we have peace with God through our Lord Jesus Christ. |
| 1 Corinthians 12:27 | I am a member of Christ's body | Now you are the body of Christ and individually members of it. |
| Ephesians 5:30 | I am a member of Christ's body | because we are members of His body. |
| Romans 8:1-2 | I am free from condemnation | 1 There is therefore now no condemnation for those who are in Christ Jesus.1 2 For the law of the Spirit of life has set you free in Christ Jesus from the law of sin and death. |
| I Corinthians 3:16 | I am God's temple | Do you not know that you are God's temple and that God's Spirit dwells in you? |
| 1 Corinthians 6:19 | I am the temple of the Holy Spirit | Or do you not know that your body is a temple of the Holy Spirit within you, whom you have from God? You are not your own |
| 2 Corinthians 5:17 | I am a new creature | Therefore, if anyone is in Christ, he is a new creation. The old has passed away; behold, the new has come. |
| Colossians 1:13-14 | I am redeemed and forgiven of all my sins | 13 He has delivered us from the domain of darkness and transferred us to the kingdom of his beloved Son, 14 in whom we have redemption, the forgiveness of sins. |
| 1 Corinthians 6:17 | I am united with the Lord, and I am one with Him in Spirit | But he who is joined to the Lord becomes one spirit with him. |
| Hebrews 4:14-16 | I have direct access to the throne of grace through Christ | 14 Since then we have a great high priest who has passed through the heavens, Jesus, the Son of God, let us hold fast our confession. 15 For we do not have a high priest who is unable to sympathize with our weaknesses, but one who in every respect has been tempted as we are, yet without sin. 16 Let us then with confidence draw near to the throne of grace, that we may receive mercy and find grace to help in time of need. |
| Romans 8:37 | I am more than a conqueror | No, in all these things we are more than conquerors through him who loved us. |
| Ephesians 6:10 | I am strong in the Lord | Finally, be strong in the Lord and in the strength of his might. |
| 1 Peter 2:5 | I am a living stone, being built up with Christ as a spiritual house | you yourselves like living stones are being built up as a spiritual house, to be a holy priesthood, to offer spiritual sacrifices acceptable to God through Jesus Christ. |
| 1 Peter 2:5 | I am holy and without blame before Him | you yourselves like living stones are being built up as a spiritual house, to be a holy priesthood, to offer spiritual sacrifices acceptable to God through Jesus Christ. |
| 1 Peter 2:9 | I am a chosen race, a royal priesthood, a holy nation, a people for His possession | But you are a chosen race, a royal priesthood, a holy nation, a people for his own possession, that you may proclaim the excellencies of him who called you out of darkness into his marvelous light. |
| Ephesians. 1:4 | I am holy and without blame | even as he chose us in him before the foundation of the world, that we should be holy and blameless before him. |
| Ephesians 3:1 | I am holy and share a heavenly calling | Therefore, holy brothers, you who share in a heavenly calling, consider Jesus, the apostle and high priest of our confession |
| Hebrews 3:14 | I am a partaker of Christ and share His life | For we have come to share in Christ, if indeed we hold our original confidence firm to the end. |
| Colossians 1:13 | I am delivered from the power of darkness | He has delivered us from the domain of darkness and transferred us to the kingdom of his beloved Son |
| Romans 8:17 | I am a joint heir with Christ | and if children, then heirs—heirs of God and fellow heirs with Christ, provided we suffer with him in order that we may also be glorified with him.  |
| Galatians 2:20 | I am crucified with Christ | I have been crucified with Christ. It is no longer I who live, but Christ who lives in me. And the life I now live in the flesh I live by faith in the Son of God, who loved me and gave himself for me.       |
| Romans 8:14 | I am a son of God | For all who are led by the Spirit of God are sons of God. |
| Galatians 3:26   | I am a son of God | for in Christ Jesus you are all sons of God, through faith. |
| Galatians 4:6 | I am a son of God | And because you are sons, God has sent the Spirit of his Son into our hearts, crying, "Abba! Father!" |
| Galatians 3:38 | I am one in Christ | There is neither Jew nor Greek, there is neither slave nor free, there is no male and female, for you are all one in Christ Jesus |
| Ephesians 2:5 | I am alive with Christ | even when we were dead in our trespasses, made us alive together with Christ—by grace you have been saved |
| 2 Corinthians 5:18 | I am reconciled to God | All this is from God, who through Christ reconciled us to himself and gave us the ministry of reconciliation |
| 2 Corinthians 5:21 | I am righteous | For our sake he made him to be sin who knew no sin, so that in him we might become the righteousness of God. |
| Deut. 32:10 | I am the apple of my Father's eye | He found him in a desert land, and in the howling waste of the wilderness; he encircled him, he cared for him, he kept him as the apple of his eye. |
| Psalms 17:8 | I am the apple of my Father's | Keep me as the apple of your eye; hide me in the shadow of your wings |
| I Peter 2:24 | I am healed by the stripes of Jesus | He himself bore our sins in his body on the tree, that we might die to sin and live to righteousness. By his wounds you have been healed. |
| Isaiah 53:5 | I am healed by the stripes of Jesus | But he was pierced for our transgressions; he was crushed for our iniquities; upon him was the chastisement that brought us peace, and with his wounds we are healed. |
| 1 Peter 5:8 | I am an enemy of the devil | Be sober-minded; be watchful. Your adversary the devil prowls around like a roaring lion, seeking someone to devour. |
| 1 Peter 2:9,10 | I am a chosen race, a royal priesthood, a holy nation, a people for God's own | 9 But you are a chosen race, a royal priesthood, a holy nation, a people for his own possession, that you may proclaim the excellencies of him who called you out of darkness into his marvelous light. 10 Once you were not a people, but now you are God's people; once you had not received mercy, but now you have received mercy. |
| Ephesians 3:1 | I am a prisoner of Christ | For this reason, I, Paul, a prisoner of Christ Jesus on behalf of you Gentiles |
| Ephesians 4:1 | I am a prisoner of Christ | I therefore, a prisoner for the Lord, urge you to walk in a manner worthy of the calling to which you have been called |
| Philippians 3:20 | I am a citizen of heaven | But our citizenship is in heaven, and from it we await a Savior, the Lord Jesus Christ |
| Ephesians 2:19 | I am a citizen of God's family | So, then you are no longer strangers and aliens, but you are fellow citizens with the saints and members of the household of God |
| 1 Peter 2:5 | I am one of God's living stones and am being built up in Christ as a spiritual house | you yourselves like living stones are being built up as a spiritual house, to be a holy priesthood, to offer spiritual sacrifices acceptable to God through Jesus Christ. |
| Ephesians 2:10 | I am God's workmanship | For we are his workmanship, created in Christ Jesus for good works, which God prepared beforehand, that we should walk in them. |
| Romans 6:18 | I am a slave of righteousness | and, having been set free from sin, have become slaves of righteousness. |
| Romans 6:22 | I am enslaved to God | But now that you have been set free from sin and have become slaves of God, the fruit you get leads to sanctification and its end, eternal life. |
| Revelation 21:7 | I am victorious | The one who conquers will have this heritage, and I will be his God and he will be my son |
| Romans 8:28 | I am assured that God works for my good in all circumstances | And we know that for those who love God all things work together for good, for those who are called according to his purpose. |
| Colossians 3:1-4 | I am hidden with Christ in God | 1 If then you have been raised with Christ, seek the things that are above, where Christ is, seated at the right hand of God. 2 Set your minds on things that are above, not on things that are on earth. 3 For you have died, and your life is hidden with Christ in God. 4 When Christ who is your life appears, then you also will appear with him in glory. |
| 2 Timothy 1:7 | I have not been given a spirit of fear but of power, love and a sound mind | for God gave us a spirit not of fear but of power and love and self-control. |
| John 15:5 | I am a branch of Jesus Christ, the true vine, and a channel of his life | I am the vine; you are the branches. Whoever abides in me and I in him, he it is that bears much fruit, for apart from me you can do nothing. |
| 2 Corinthians 5:17-21 | I am a minister of reconciliation | 17 Therefore, if anyone is in Christ, he is a new creation. The old has passed away; behold, the new has come. 18 All this is from God, who through Christ reconciled us to himself and gave us the ministry of reconciliation; 19 that is, in Christ God was reconciling the world to himself, not counting their trespasses against them, and entrusting to us the message of reconciliation. 20 Therefore, we are ambassadors for Christ, God making his appeal through us. We implore you on behalf of Christ, be reconciled to God. 21 For our sake he made him to be sin who knew no sin, so that in him we might become the righteousness of God. |
| Philippians 4:13 | I can do all things through Christ, who strengthens me | I can do all things through him who strengthens me. |
| Ephesians 3:12 | I may approach God with freedom and confidence | in whom we have boldness and access with confidence through our faith in him. |
| Deuteronomy 7:6 | I am God's special treasure | For you are a people holy to the LORD your God. The LORD your God has chosen you to be a people for his treasured possession, out of all the peoples who are on the face of the earth. |
| Colossians 3:12 | I am chosen, holy and dearly loved | Put on then, as God's chosen ones, holy and beloved, compassionate hearts, kindness, humility, meekness, and patience |
| 1 Thessalonians 1:4 | I am chosen, holy and dearly loved | For we know, brothers loved by God, that he has chosen you |
| 1 John 3:1-2 | I am a child of God and I will be like Him | 1 See what kind of love the Father has given to us, that we should be called children of God; and so, we are. The reason why the world does not know us is that it did not know him. 2 Beloved, we are God's children now, and what we will be has not yet appeared; but we know that when he appears, we shall be like him, because we shall see him as he is. |
| 1 Thessalonians 5:5 | I am a child of the light and not of darkness | For you are all children of light, children of the day. We are not of the night or of the darkness. |
| Isaiah 40:11 | I am carried close to the heart of God | He will tend his flock like a shepherd; he will gather the lambs in his arms; he will carry them in his bosom, and gently lead those that are with young. |
| Isaiah 49:16 | I am written on God's hand | Behold, I have engraved you on the palms of my hands; your walls are continually before me. |
| Revelation 19:7 | I am the bride of Christ | Let us rejoice and exult and give him the glory, for the marriage of the Lamb has come, and his Bride has made herself ready; |
| 1 John 5:18 | I am born of God and the evil one cannot touch me | We know that everyone who has been born of God does not keep on sinning, but he who was born of God protects him, and the evil one does not touch him. |
| 1 Corinthians 15:10 | By the Grace of God, I am what I am | But by the grace of God I am what I am, and his grace toward me was not in vain. On the contrary, I worked harder than any of them, though it was not I, but the grace of God that is with me.  Whether then it was I or they, so we preach and so you believed. |