Hrubieszow, located on Poland's national roadway 74, is 4 to 5 km from the Ukrainian border and the home of Kościół Ewangelicznych Chrześcijan. This EFCA church is at one of the epicenters of the Ukrainian refugee crisis.
The church is small and has had to deal with much during the last 2 years including the death of its pastor and treasurer due to Covid 19 a little over a year ago. Pastor Szymon Kwoka, previously the associate pastor, now leads this church and has had visions of transforming his church to reach his community and the surrounding area for several years.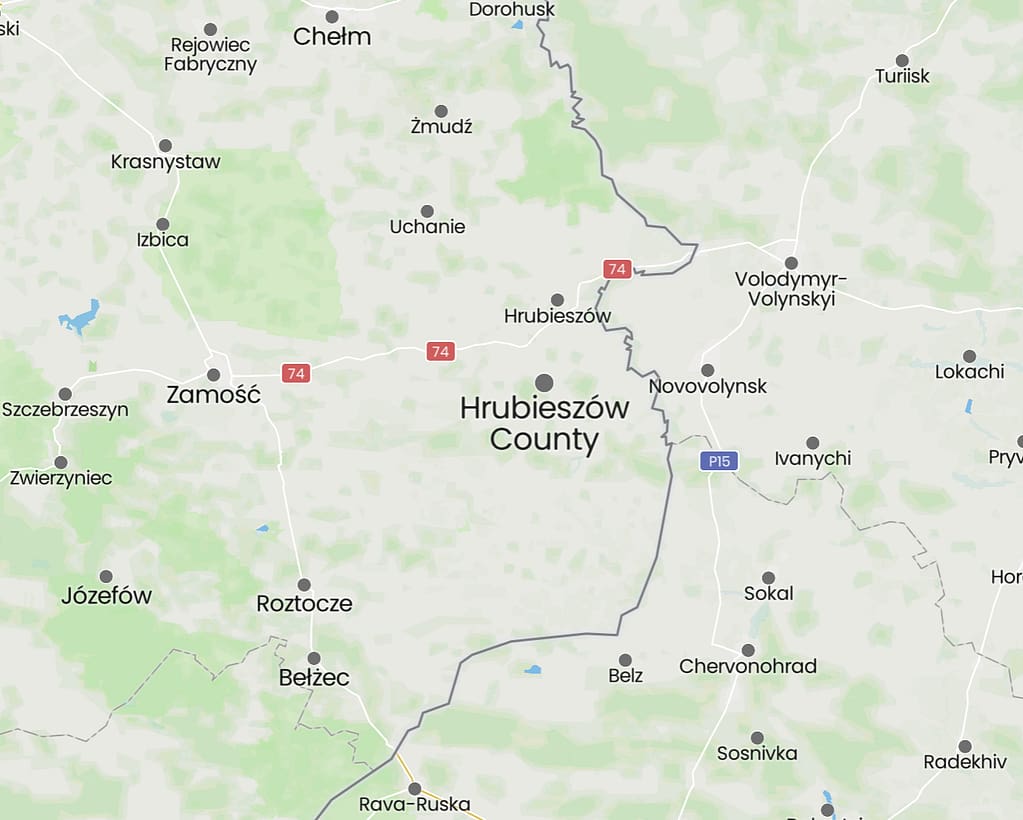 Then Came the War
The war has changed everything. Hrubieszow lies near several border crossings thru which many thousands of refugees have passed from Ukraine to Poland and beyond. The church had tried for many years to get closer to the local community. They have held numerous events and outreach activities but people have been hesitant to accept or embrace the church. Government officials and community leaders were distant and would not engage with them.
When the war started the church immediately began to think how can they help. What did God want them to do, given their proximity to the border.
Sojourners
The church began taking trips to the border to deliver food and provide any other assistance they could to support the local communities efforts to help the Ukrainians. The church realized many people had no where to go after they crossed the border. Many have to wait many hours or even days in miles long lines of cars or in trains to cross into Poland.
The church has an attic so they offered the local government to help house refugees. The government enthusiastically accepted their offer of help.
The refugees come for a night or two or three while they are trying to determine where they might be able to go next and settle at least for a short time. Many go to relatives or friends or acquaintances but many have no one or no place to which they might go.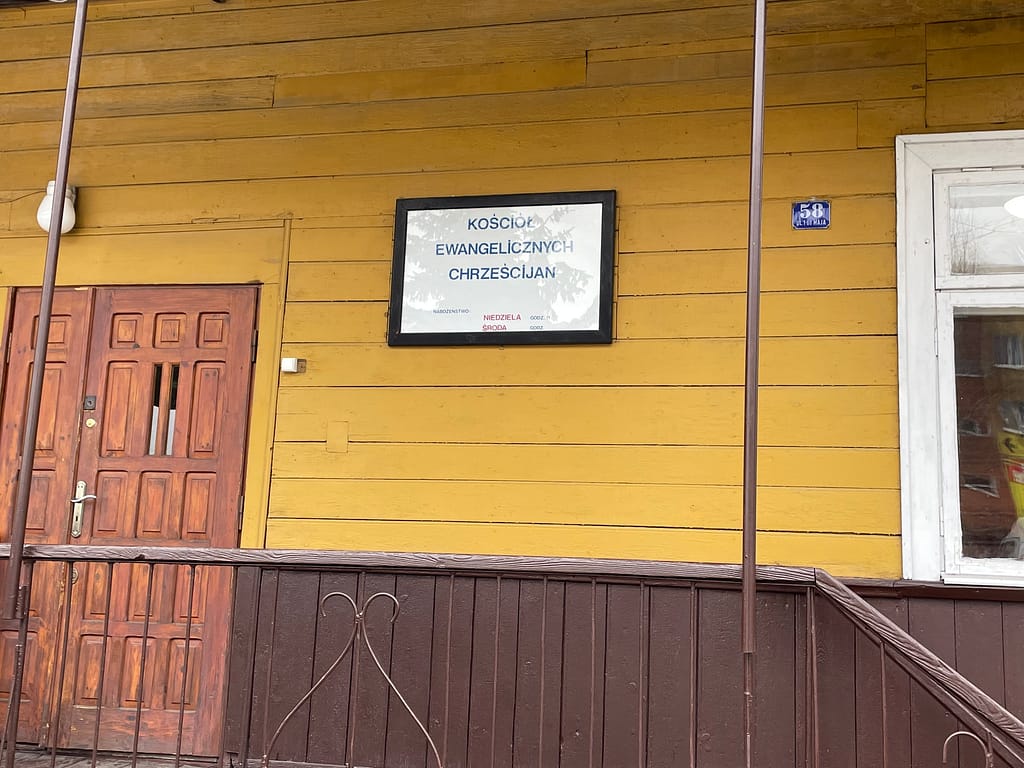 The first night I arrived was a bit hectic with introductions and getting settled into an apartment Crisis Response has rented close to the church. After dinner a group of us left for a local the train station around 9 pm to wait for a train coming from the Ukraine with refugees. It took about 40 minutes to get to the station where the pastor and his brother are now well known and accepted by the senior officials managing immigration processing for the Ukrainians. We had to wait about an hour for the train to arrive due to delays at the border.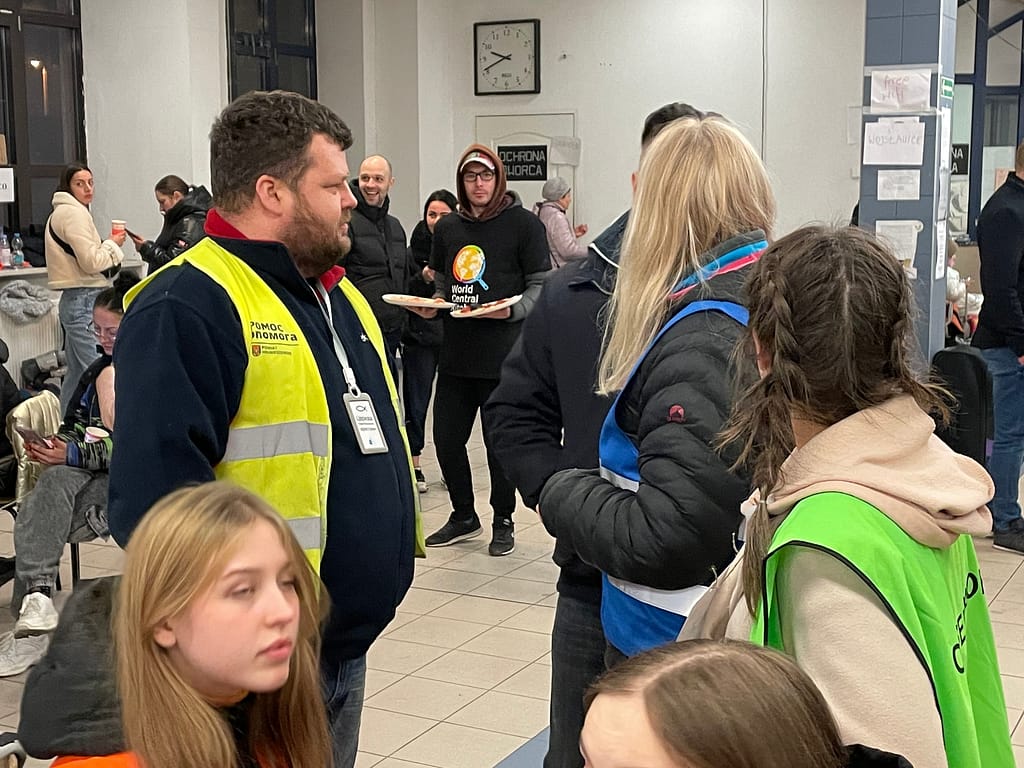 The border / immigration officials work with our partner church to identify people that have no where to go when they get off the train. The ministry can house about 50 people between two churches. Whenever the church has extra room, someone from the church goes to the station to pick up more refugees.
Once the train arrived the refugees begin to be processed by immigration officials. Over 1,200 arrived on this train which is many hundred people over its normal capacity. In addition, three more trains were scheduled to arrive later into the night.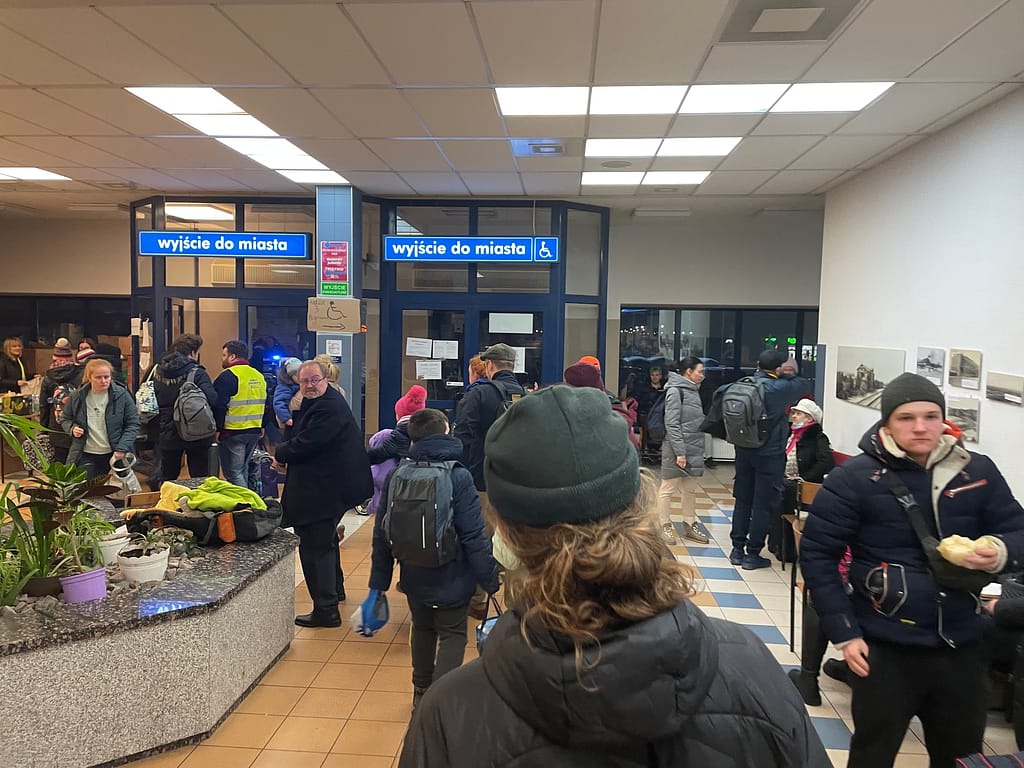 Once they are processed they can start making their way to where they can settle at least temporarily. Many Polish people have opened their homes for people to stay. One member of church has 17 people staying in his house. The compassion of the Polish people has been amazing. There are tensions as well and these tensions will most likely increase as more refugees come and Poland literally runs out of space to house them.
In fact, Warsaw has seen its population increase by over 300,000 since the start of the war and the mayor says his city is about at capacity. This story is repeated across numerous cities and towns across Poland.
Many stay only a few hours at the station and then are taken by other trains to Berlin, Warsaw, or other destinations. In the phot below, people working for the railway hold signs and help people get to the train.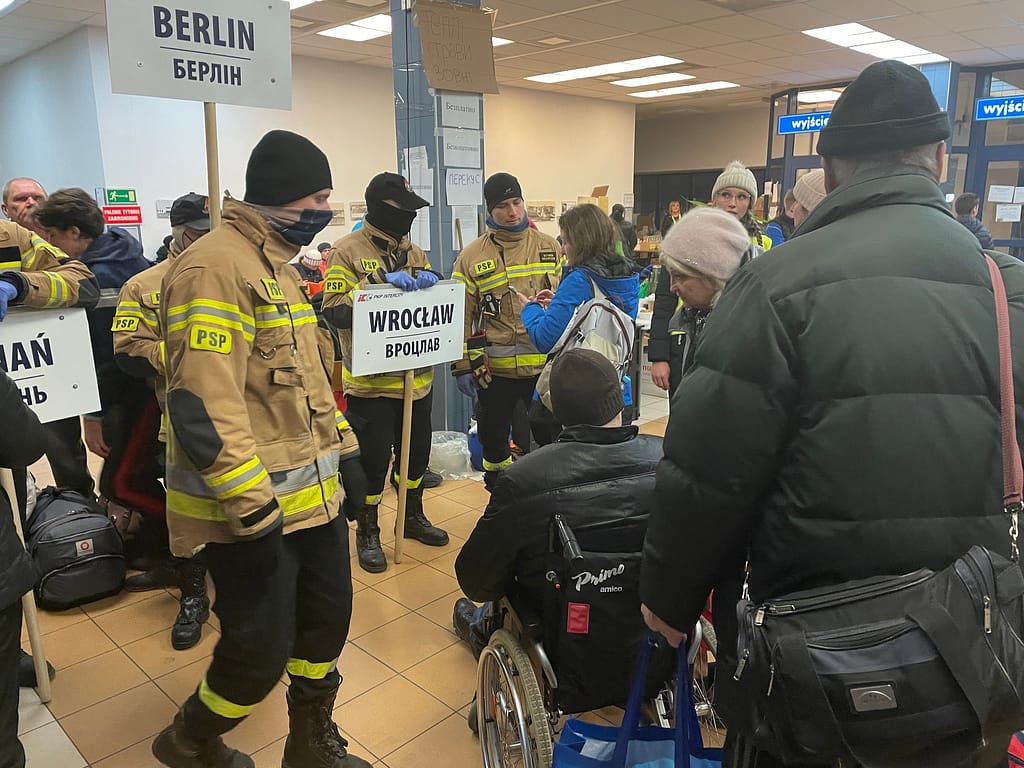 The pastor and his brother wait for the immigration officials to identify 9 people that have no place to go. This includes a family traveling without their father and a young man (on the right in the photo below) that was sent alone out of the country by his family.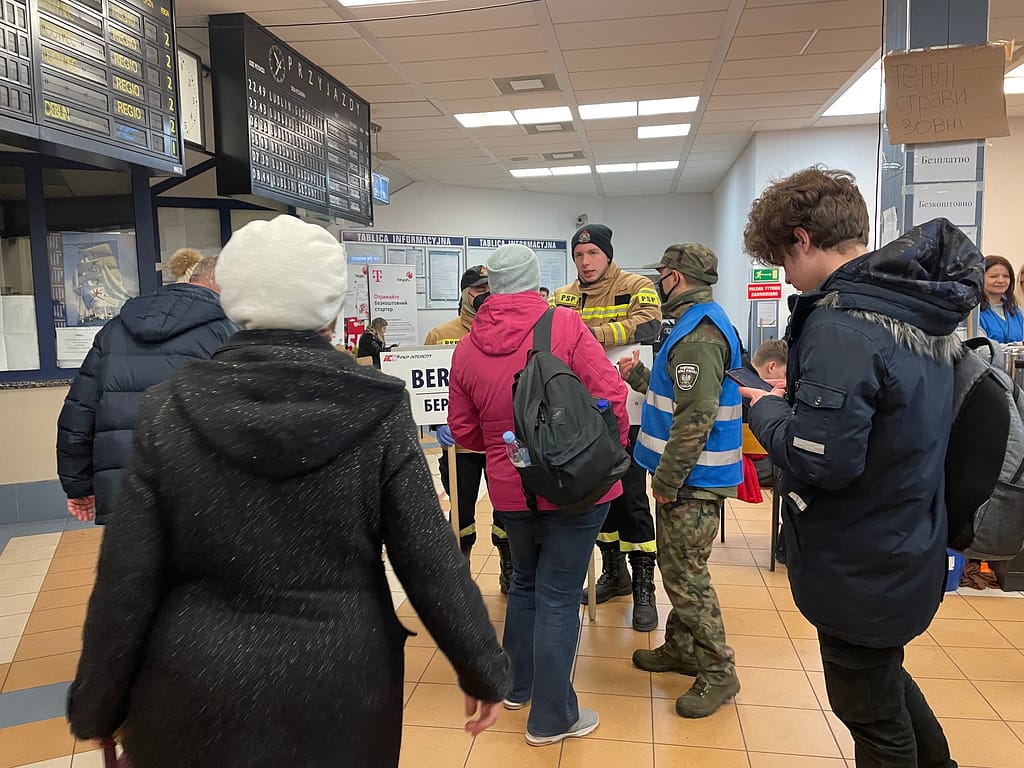 It only takes about 15 minutes to identify 9 people. That is all the room the church has at the moment because of other refugees already staying at the church.
We then head back to church and get these people up to an attic that has been converted to a sleeping place. Here, 25 to 30 can sleep on mats on the floor until they can make their way to their next destination. The church feeds them, helps them wash their clothes, has clothing inside a large tent that they can sort through and take what they need. Volunteers cook, sort, pack, get supplies and many other things but most importantly try and show the love of Christ to these desperate people.
How to Help
These refugees and the Polish people as well as those in other countries that are accepting and housing these refugees need your prayers and support. This is going to be a long-term need.
The Ukrainian refugees have literally lost everything and are not sure when or even if they will be able to go back to their homes. They are overwhelmed and vulnerable. Pray as we seek to minister to these fellow image bearers and share the love of Christ.