The following is a conversation I had with two women who just arrived in Poland from Mariupol, Ukraine.  The conversation was conducted with the assistance of a translator. 
My question was simple, what have the last two or three weeks been like for you and your family? This is their story.
Tonya and Sverta's Story
Beginning Feb 24, we wake up in the morning and feel some of the things that are happening.  My husband (Tonya's husband) woke up in the morning at 5:00 am and see that Putin starts war in Ukraine.  My husband took car and filled it up with gas and then went and withdrew money from the bank. 
On this day a lot of people go to get gas and go to the bank to get money.  On this day the Russian troops started shooting.  Each hour they shoot more and more.  They destroyed the city region by region.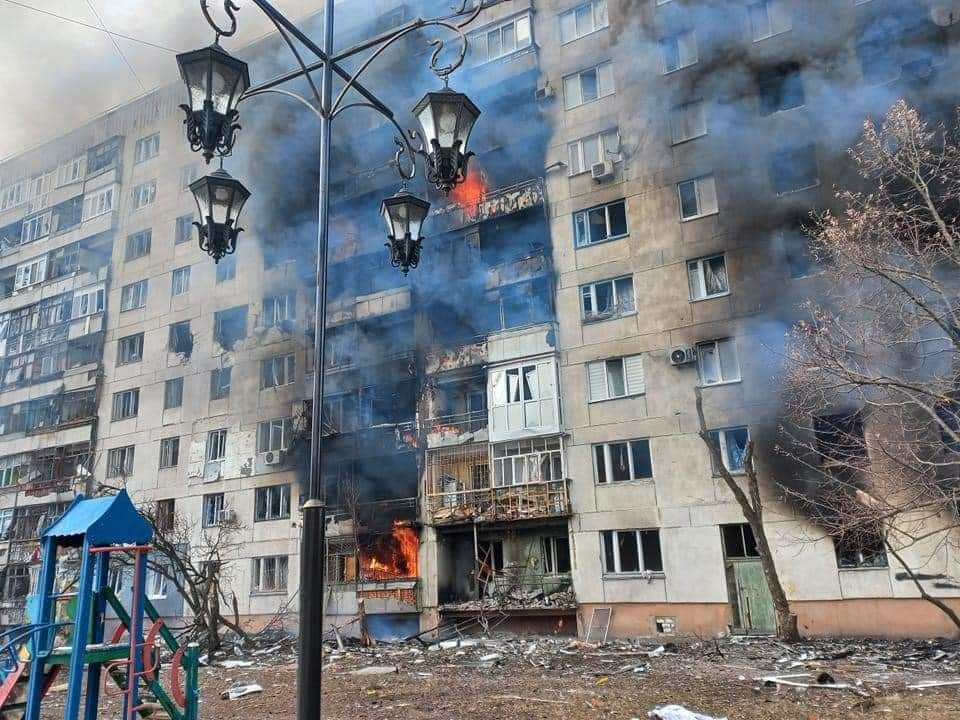 First week Russians shoot near town and on the second week they shooting at the entire town. Every building targeted.
On March 2, we ran out of water, electricity went off and lost cell and internet.
After two more days, LPG gas is lost.  People go into the street and prepare fires and cook in the street.  In the second week people also left their flats and moved to the basements of the buildings. 
Grocery Stores Targeted and Destroyed
At the beginning of the war, all big shops where you could buy food were bombed and destroyed.  Metro, ABC Center, others destroyed first because people could buy food.  Hell started for me when Russian planes came to the city and shot rockets and bombs. 
We were in the center of the city hiding in the basement near to a church.  There was a building near the church where many people lived. One morning the Russians sent a bomb and destroyed the building and only thing left was a large crater in the ground. 
Three weeks into the war all town destroyed, all buildings destroyed, lots of bodies of soldiers on the streets and no one to bury them. Some people buried some of the men on the street.
Momma is crying now because she left her sister in Mariupol and doesn't know what has happened to her.
Two weeks we stay in the basement because of the bombs.  There were 6 people from our family in basement.  Four adults and two children. 
March 8 two bombs fly into their house and destroyed their house and their car.  When they (the Russians) started to bomb the city, we were thinking we would stay in town but after March 8 we left our house and went and stayed with some neighbors.  In the neighbor's area of town, a lot of big buildings where people lived, and many bombs came to this area and large fires came to this region. Whole area, 90% of town destroyed.  School destroyed; kids cannot continue study. 
We then decided to leave and were able to leave Mariupol on March 14th after the Ukrainian government and Russian troops talked and agreed to a safe corridor they were able to leave the town.
When we left Mariupol, the Ukrainian troops told us that they listened to Russians and heard them saying destroy it all, all buildings, all people. 
It is awful for her (they came to Ukraine from Russia), because she reads the news and Putin say Mariupol is not destroyed it is a fake of NATO. 
In Shock
Just after we had left Mariupol one time I went to the bathroom I was able to get a radio station.  A lady reporter in Donbas was saying everything said about the situation in Kiev was a fake, it was not true, it was a fake from NATO.  I am in shock. How can she say this?
We have relatives in Russia, and they don't believe us they believe Putin. 
The translator also has relatives in Russia and told me the same situation was true for him.
In Mariupol in the center of the city in the theater more than 1,000 people were in the building and they wrote "children" around the building.  They did this because when people fly over, they don't bomb buildings because of children.  But Russian soldiers don't listen and bomb anyway. 
Our Family lost house, car, and work. We don't know what to expect from this life because we left all life in Mariupol. We are very worried about our future.
My (Tonya's) best wish is that the war stops at Mariupol.  Another part of Ukraine does not deserve this.  My best wish for war to stop in Mariupol.
Dyakuyu, Bozhe – Thank God
God took us from this hell, and we prayed to God, and we pray that he will provide for us in the future. 
Tonya, Sverta, and their family left on a bus later in the morning to Frankfort, Germany.  Tonya's husband is still in the Ukraine (Men from 18 to 60 are not allowed leave but must serve to support the war effort).  They don't know anyone in Germany. They do not know what life holds for them and they fear for their family and friends in Ukraine.  And they fear for their country. 
How to Help
Pray
Pray for them that God would give them peace and comfort.  That God would cause this war to end quickly.  That government leaders would turn to God and to Christ and repent.  Pray against the evil that is coming out of Russia. Pray that the eyes and hearts of the people of Russia would be opened. Pray for peace.  Pray for the churches in Poland and the ministry with which we are working.  Pray for the pastors, elders and church members who are leading the ministry in Hrubieszow. 
Provide financial support
Many of you have already given donations and I want to thank you so much for those gifts.  Much more help is needed. Please click the link below to give to this ministry.