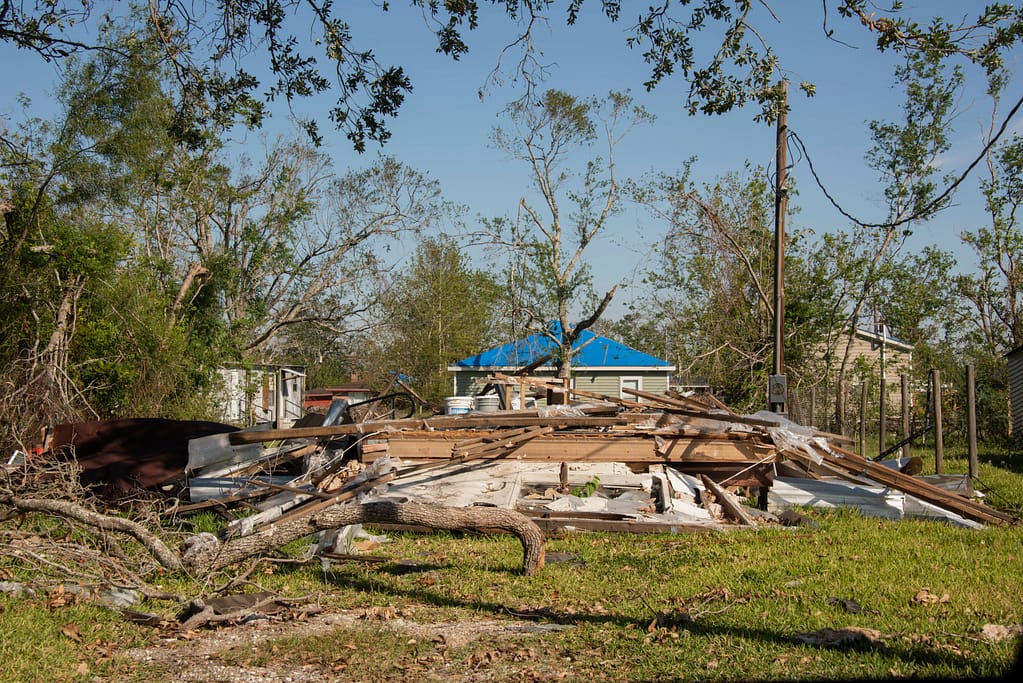 Two Storms
Lake Charles, LA is approximately 30 miles from Cameron Parish where Hurricane Laura made landfall on August 27, 2020. Laura had 150 mph winds when it struck, devastating Cameron Parish. The winds remained around 130 mph when the storm struck Lake Charles.

A little over six weeks later on October 11, Hurricane Delta hit the same area. The storm made landfall 13 miles from where Hurricane Laura hit and had winds of over 100 mph. Though Hurricane Delta was weaker, it brought much more rain and storm surge.

The storms devastated the coastal area of southwestern Louisiana. The 100,000 people impacted by these storms will be rebuilding their lives and their communities for many months and most likely years to come.

Many residents do not know what to do or how to cope. The smallest of tasks becomes overwhelming as they try to get through the day and then the next day and the next.
The Pile
The storms wreaked havoc over the area. No neighborhoods were left intact. The storms completely devastated some communities, such as Cameron Parish. Blue tarps cover most of the roofs of homes in Lake Charles. Many homes were reduced to only the foundation and rubble.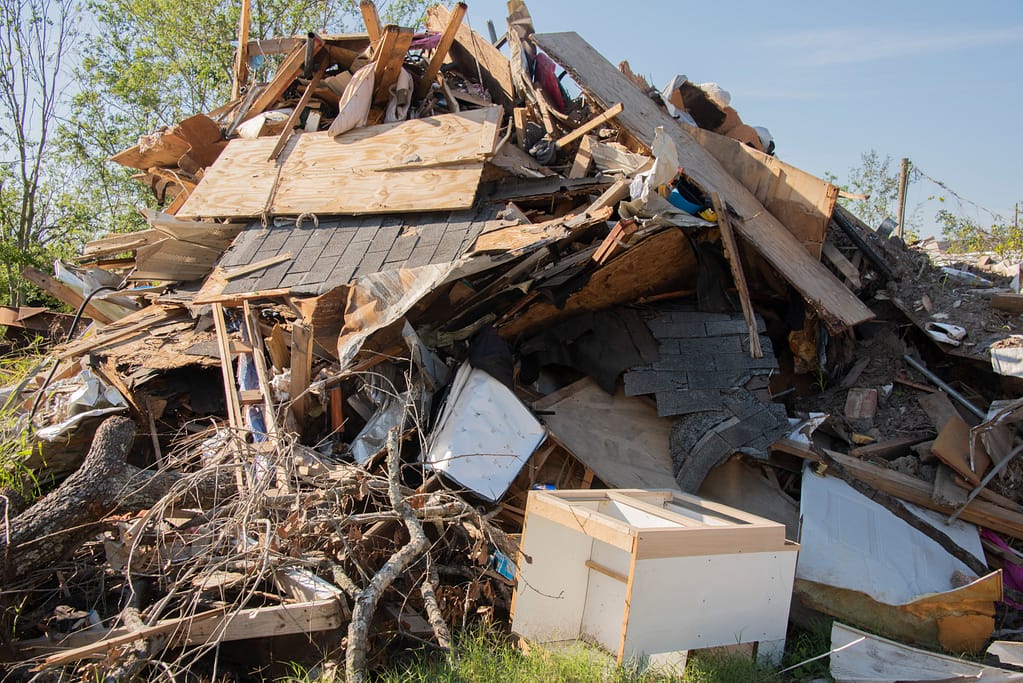 Everywhere you look you see "the pile". This is the ever-present, inevitable collection of furniture, water-logged photos and belongings, toys, appliances, wood, and more heaped up in front of homes after a significant hurricane. The pile contains memories, dreams, and hopes that have now been relegated to the landfill.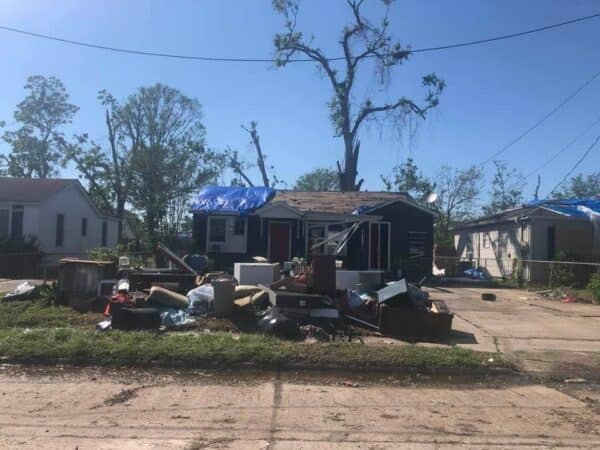 When driving around, you often see people sifting through "the pile" hoping to of salvage precious treasures. They could be looking for a ring, a photo of a grandchild, or that special plate that was passed down through generations. It could be anything that could help them hold on to a life that is now only a memory.
Outdoor Church
The Crisis Response Team attended Lake Charles Bible Church's "Outdoor Service" not because of Covid-19, but because the church building had been devastated. It will be many months before it can be used again. The message by Pastor Phil Carpenter focused on "dealing with difficulties", including:
the Blessing of difficulties
Bonding through difficulties
the Benefits of difficulties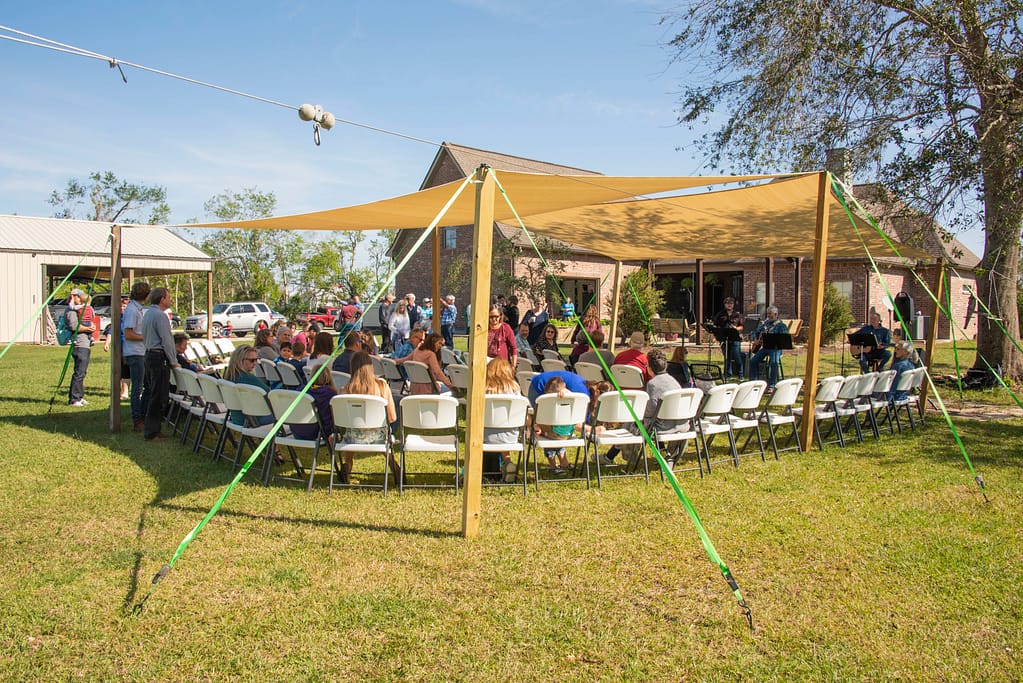 In this world we will encounter difficulties. They cannot be avoided. But, Paul writes in II Corinthians 1:1-11 how these difficulties help us grow as Christians and help us minister and serve others. This message resonates with the Crisis Response Ministry because it demonstrates how God uses crises to create mission fields. We see in crisis that God opens the doors for the gospel message.
Tears Often Come
After the service, I spoke with a man from the congregation about his experience with the storm and how he and his family were coping. Their home had been heavily damaged when a large tree fell on the roof making several holes. He spoke of the oppressive heat immediately after the storm as he and his family cleared debris from their home and removed the tree from the roof.

As he spoke he started to cry. His son had been on the roof using a chain saw to cut and remove sections of the fallen tree when he was overcome with heat stroke. The family worked frantically to cool him down by placing him in their air-conditioned car and putting ice packs under his arms. Fortunately, they quickly got his body temperature back to normal.
The father said the experience changed him. It caused him to realize that things are not necessary. It is our family and friends that matter, everything else can be replaced.

This is not an unusual experience. Tears often flow as people tell their stories, especially just after a crisis event. But as Pastor Phil said these difficulties can change us for good. They lead people to the cross. They help focus us on what is truly important in life.
What can you do to help?
The Crisis Response Ministry needs your support as we set up this new ministry site in Louisiana. We need financial support as well as volunteer teams to come and serve.